EXPERIENCE THE WORLD'S GREATEST HANDMADE VEGAN SOAP!
We Hand Make all our Soaps and Products with the Highest Quality Renewable Resource Ingredients.
GET STARTED WITH A SAMPLE PACK!
One of most Popular Bundles that lets you try all our best selling Bars.
BACK FOR A LIMITED TIME!
Fan Favorite Harry Potter Soap's Hufflepuff and Slytherin are BACK! but for a limited time. IYKYK!
GET MAGICAL!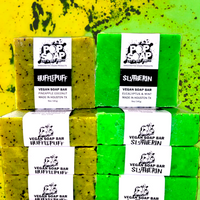 ALL OUR PRODUCTS ARE 100% VEGAN & HANDMADE